Top 10 Fastest animals in the world
1. Mexican free-tailed bat
speed= 160 km/h (99 mph)
The Mexican free-tailed bat or Brazilian free-tailed bat (Tadarida brasiliensis) is a medium-sized bat native to the Americas, regarded as one of the most abundant mammals in North America.
These outflights, like the one from beneath Congress Avenue Bridge in Austin, Texas, or at Bracken Cave just down the road in San Antonio, can last for hours.
This bat has a tail that measures half the length of its body
Tadarida brasiliensis is the scientific name of the Mexican free-tailed bat.
Mexican free-tailed bats are typically 9 cm (3.5 in) in length and weigh around 7–12 g (0.25–0.42 oz) with females tending to be slightly heavier than males by 1-2 grams for increased fat storage to use during gestation and nursing
---
2. Cheetah
speed= 109.4–120.7 km/h (68.0–75.0 mph)
The cheetah can accelerate from 0 to 96.6 km/h (60.0 mph) in under three seconds, though endurance is limited: most cheetahs run for only 60 seconds at a time.
The cheetah is also the only cat that cannot retract its claws, providing more traction.
A combination of leg length, muscle size and a long stride gives the cheetah the ideal body for running across land, said John Hutchinson, a professor of evolutionary biomechanics at the Royal Veterinary College in London
The cheetah occurs in a variety of habitats such as savannahs in the Serengeti, arid mountain ranges in the Sahara and hilly desert terrain in Iran.
They have been widely depicted in art, literature, advertising, and animation.
---
3. Pronghorn
speed= 88.5 km/h (55.0 mph)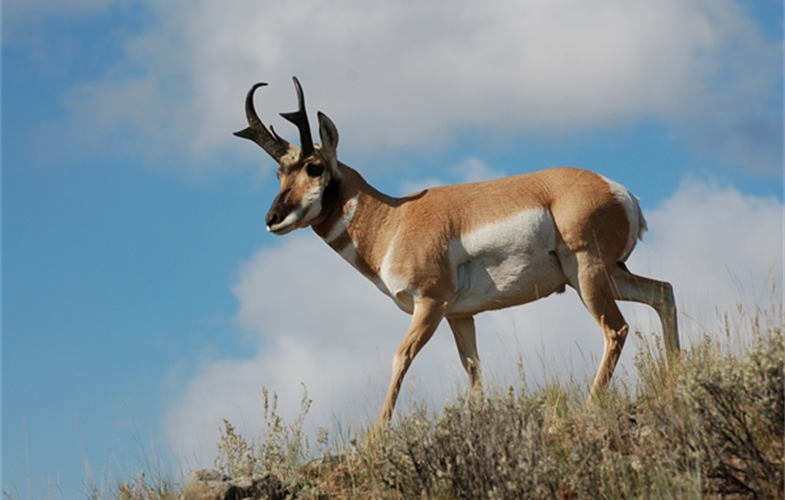 The pronghorn (American antelope) is the fastest animal over long distances; it can run 56 km/h for 6 km (35 mph for 4 mi), 67 km/h for 1.6 km (42 mph for 1 min), and 88.5 km/h for 0.8 km (55 mph for 0.5 mi).
Ranging from Canada to California the pronghorn is not only the second-fastest land animal but also has the stamina to run at pace over long distances.
Pronghorns keep their mouths open slightly when they run, which allows them to take in extra oxygen.
As a member of the superfamily Giraffoidea, the pronghorn's closest living relatives are the giraffe and okapi.
They are found in Canada, the USA and Mexico, and their ability to run both fast and for very long periods allows them to comfortably outpace pursuing coyotes and bobcats.
---
4.Springbok
speed= 88 km/h (55 mph)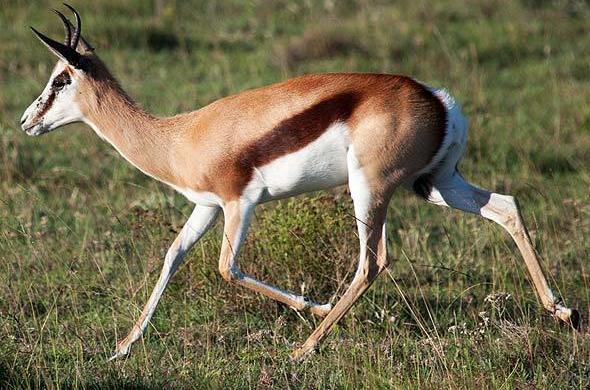 The springbok, an antelope of the gazelle tribe in southern Africa, can make long jumps and sharp turns while running.
Aside from their speed – which they can maintain only for short distances – their special skills are 3 meter high bounce-like jumps, and sharp turns whilst running at pace, enabling them to shake off chasing predators.
It is the symbol and nickname of the national rugby team of South Africa.
The International Union for Conservation of Nature and Natural Resources classifies the springbok as a least concern species.
Both sexes also have black, curved, lyre-shaped horns. Larger males can have horns 36-48cm in length.
---
5. Wildebeest
speed= 80.5 km/h (50.0 mph)
There are two species of wildebeest found in East and Southern Africa – the blue wildebeest and black wildebeest – both of which are surprisingly fast for their size.
Wildebeests eat grasses and migrate up to 995 miles each year in search of the best food and water sources.
In East Africa, the blue wildebeest is the most abundant big-game species; some populations perform an annual migration to new grazing grounds, but the black wildebeest is merely nomadic.
Both are extremely fast runners, which allows them to flee from predators.
They are among the most specialized and successful of African herbivores and are dominant in plains ecosystems.
---
6. Lion
speed= 80.5 km/h (50.0 mph)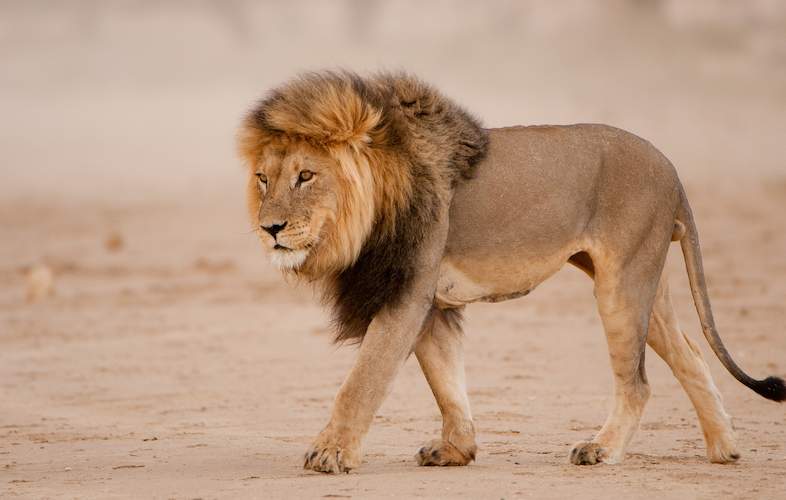 The lion is the second fastest wild cat with a top running speed of 80.5 km/h, though only for very short bursts.
Like the cheetah, the lion can only manage their top speed for short bursts, meaning they need to stalk close to their prey and work as a team to ensure a successful hunt.
One of the most widely recognised animal symbols in human culture, the lion has been extensively depicted in sculptures and paintings, on national flags, and in contemporary films and literature
Historically, they ranged across much of Europe, Asia, and Africa, but now they are found mainly in parts of Africa south of the Sahara.
---
7. Blackbuck
speed= 80 km/h (50 mph)
Male and female blackbucks have distinctly different appearances.
Because of the male's impressive horns, blackbuck are sadly a popular trophy animals for hunters.
The blackbuck is active mainly during the day.
The antelope is native to and found mainly in India, while it is locally extinct in Pakistan and Bangladesh.
The rest of their bodies are brown, and their undersides are white.
---
8. Thomson's gazelle
speed= 80 km/h (50 mph)
Thomson's gazelles, being long-distance runners, can escape cheetahs by sheer endurance
Grant's gazelles are sometimes confused with Thomson's.
The Thomson's gazelle can reach speeds of 80–90 km/h (50–55 mph). It is the fourth-fastest land animal, after the cheetah (its main predator), pronghorn, and springbok.
On Grant's gazelles, the patch always extends above the tail.
---
9. Hare
speed=80 km/h (50 mph)
Hares can reach maximum speeds of 35 mph (56 km/h) in short distances of approximately 90 meters, and a top speed of 50 mph (80 km/h) for about 20 meters.
Similar in form to common rabbits, hares have longer ears and live solitarily or in pairs above ground, hence the need for their speed.
Five leporid species with "hare" in their common names are not considered true hares: the hispid hare (Caprolagus hispidus), and four species known as red rock hares (comprising Pronolagus). Conversely, jackrabbits are hares, rather than rabbits.
---
10. Jackrabbit
speed= 72 km/h (45 mph)
The jackrabbit's strong hind legs allow it to leap 3 m (9.8 ft) in one bound; some can even reach 6 m (20 ft).
They use these leaps and a zigzag running style to evade their many predators, including coyotes.
The hares host many ectoparasites including fleas, ticks, lice, and mites; for this reason, hunters often avoid collecting them.
The black-tailed jackrabbit is an important prey species for raptors and carnivorous mammals, such as eagles, hawks, owls, coyotes, foxes, and wild cats.
---
| | |
| --- | --- |
| Animals | Speed |
| 1. Mexican free-tailed bat | 160 km/h (99 mph) |
| 2. Cheetah | 109.4–120.7 km/h (68.0–75.0 mph) |
| 3. Pronghorn | 88.5 km/h (55.0 mph) |
| 4.Springbok | 88 km/h (55 mph) |
| 5. Wildebeest | 80.5 km/h (50.0 mph) |
| 6. Lion | 80.5 km/h (50.0 mph) |
| 7. Blackbuck | 80 km/h (50 mph) |
| 8. Thomson's gazelle | 80 km/h (50 mph) |
| 9. Hare | 80 km/h (50 mph) |
| 10. Jackrabbit | 72 km/h (45 mph) |
Blog Upload on -
Dec. 14, 2021
Views -
4025