Sheep Farming Business
Sheep rearing is also a traditional trade. Of course, this is such a business. Which people in India have been doing for centuries. This business called sheep rearing has been happening not only in India but all over the world since ancient times. That's because sheep are also included in domesticated animals. And by its observance man gets not only meat. But wool, milk etc. are also obtained. Therefore, sheep rearing is also seen as a profitable business in rural India.
Sheep rearing is one such business. Which can be started anywhere in desert, barren, mountainous and semi-arid areas. Apart from this, a lot of investment is not required to start this type of business on a small scale. And it does not even require a lot of space to raise sheep.
In rural India, however, sheep rearing is practiced by small farmers along with other domesticated animals like buffalo, cow, goat, etc. in traditional ways. Whereas commercially, sheep farming business can be done by adopting state-of-the-art technology. And it can become the primary source of income of the entrepreneur. This is the meaning of saying that sheep rearing is done less for the purpose of getting milk. The primary purpose of the people behind rearing sheep is to get wool and meat and not milk.
Any person can start this type of agriculture based business both at small and big level, if the entrepreneur does not have much money to invest then he can start such business from small level also. And after some time can get good returns. Therefore Sheep Farming in India can be a great source of earning good income for the marginal and landless farmers. The climate of India is also favorable for sheep rearing, so many breeds of sheep exist here. A person willing to rear sheep can choose any good breed for his business.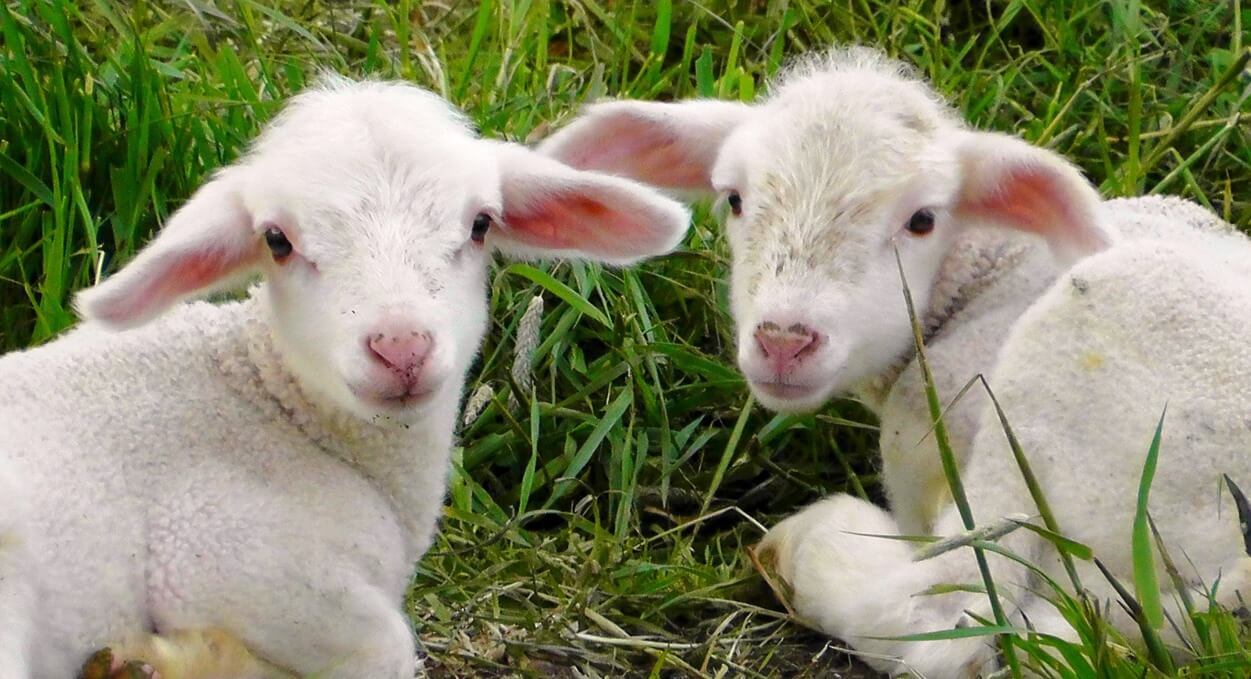 ---
Information About Sheep
Sheep prefer to live in herds. Their ability to hear and remember anything is very high. Sheep is a herbivorous animal that uses grass and green leaves of plants as its food. Generally sheep do not have horns, but some species have horns. China has the largest number of sheep in the world. India ranks third in the world in terms of sheep rearing. In 1996, a sheep was cloned in Scotland which was named 'Dali'. Sheep is a mammal animal. The age of 12-18 months of sheep is most suitable for breeding. Generally sheep give birth to one or two young at a time.
Breeding of sheep should be done according to the season because their death rate increases very much due to breeding in hot and rainy season. Their child is called Lamb. Male sheep are called Rams and female sheep are called Aves. The average lifespan of sheep is about 7 to 8 years. But the life span of some good species of sheep is more than this.
Benefits Of Sheep Farming
Sheep is a very important animal for us. Sheep rearing is also a major source of income for the rural people. Wool, meat and milk can be obtained from sheep by rearing them and by taking good care and nourishment of them. Sheep dung is a very good type of fertilizer which can increase the productivity of the fields. Sheep's milk is rich in protein and fat.
Sheep do not require much care in sheep rearing. And attention should be paid to their diet.
We get meat, milk, wool, organic manure etc. from sheep rearing.
Sheep rearing can be done in any type of weather.
In sheep farming, cow dung obtained from sheep is very beneficial for the farms. This cow dung increases the fertility of our fields.
You can also take a loan from the bank to start sheep farming.
---
How To Start Sheep Farming
Our country is an agricultural country. In which the business of sheep rearing, poultry farming, goat rearing, fish farming etc. can be started easily. Any person can start this business on a small scale according to his capacity. To start sheep farming, first of all you should choose a good place. Where there should be a good system of clean water, clean air, green grass, electricity. You should take the training of sheep rearing before rearing the sheep so that vehicles can easily come to this place. So that you should have complete information about sheep rearing. So that there is no loss in sheep farming and we can get maximum profit.
Like any other crop or cattle activity, if you have these three things "Land – Time – Energy" available then you can enjoy raising your own sheep at your place. If you have a farm with an area of ​​1 hectare (2.47 acres) per 12-15 sheep and if your farm grows at least 70% of their diet to feed them for 9 months of the year, you can switch to fodder and hay. can benefit from a diet based. And you can avoid spending a lot of money on all four. If your farm does not grow enough forage, you will need financial resources to provide a certain amount of hay with commercial feed.
If done well and on a large scale, sheep farming can be a great source of enthusiasm, excellent milk products, meat and wool. In the first year you always learn and take the necessary steps to make large investments (in time and money) as well as make the necessary estimates and calculations for the coming years. In 3-4 years, if you become an expert in sheep farming and if you find a market to sell your meat or milk product profitably then you can do it semi-professionally by increasing your cattle population . For this the skill of commitment is most needed by any person. Sheep or any other cattle cannot be left alone for more than a day. Animal husbandry means taking care of them, observing them, cleaning them, feeding them and solving problems 365 days a year. So, if you are planning to go somewhere during the weekend then you should hire an experienced and trustworthy person to take care of your cattle.
---
1. Select A Suitable Place For Sheep Rearing :
Choosing a suitable place for sheep farming business is a very important task. Although sheep rearing can be started from any region of India. Because depending on the climate, sheep rearing can be done easily all over India.
But when the entrepreneur is choosing a suitable place for this business, then he must pay attention to some important arrangements. While selecting the place for sheep rearing, keep in mind that the place should have clean and fresh water, availability of green grass, good medical facilities, transportation and marketing arrangements. Keeping all these above mentioned arrangements in mind, the entrepreneur should choose the place for sheep rearing.
2. What Do Sheep Eat?
Sheep graze the grass. They like to eat small, soft grasses located very close to the surface of the land. By grass, we mean a wide range of plant species, such as: grasses, cobs, alfalfa (Medicago sativa), chicory, legumes, shrubs, etc.
3. Choose A Good Breed
There are many breeds of sheep existing all over the world and some of these breeds are also suitable for rearing in India. As we all know that sheep farming business is dependent on the products produced from sheep like milk, manure, hides, meat, wool etc. Therefore, a sheep rearing entrepreneur should always choose a breed that has the potential to produce more of these products.
Many breeds of sheep are also available in the Indian market, out of which you can choose the breed of sheep as per your requirement for your business. According to the climatic condition of your area, you can choose any good breed from which you can be able to earn a good amount. For example, if you want to rear sheep for meat production, then you have to choose a breed that grows very quickly.
Apart from this, choose a suitable breed available in the market to produce milk and wool. Today many local sheep breeds are easily available for entrepreneurs starting sheep farming business in India.
Best Breed For Sheep Farming
If seen, about 50 types of breeds are found in India. But only 14 of these breeds are considered best for sheep farming business. So let us know in detail about some varieties of sheep.
1. Marwari Sheep
The name of this breed of sheep suggests, that it is a sheep of Rajasthan. But this breed of sheep is seen more in Gujarat. This sheep is very good for traders. Because it gives about 650 grams of wool every 6 months.
2. Mecheri Sheep
Mecheri breed of sheep is found more in the Coimbatore region of Tamil Nadu. The demand for sheep of this breed is high in the market. Because its meat is of very high quality. And many types of proteins are found in it. Therefore its meat is sold in the market at expensive prices.
3. Malpura Sheep
This is a parliamentary system. With these toys it will look beautiful. From these sheep, cattle herders get till 6 o'clock. And in the load the load increases to 26.
4. Chokla Sheep
This breed of sheep is also from Rajasthan. This sheep is considered best for its superior quality wool. For this reason, people keep more of this sheep for business. Its total weight in a year is about 24 kg.
5. Mecheri Sheep
Mecheri breed of sheep is found more in the Coimbatore region of Tamil Nadu. The demand of sheep of this breed is high in the market. Because its meat is of very high quality. And many types of proteins are found in it. Therefore its meat is sold in the market at expensive prices.
6. Muzaffarnagari Sheep
Sheep of this breed are considered very good for traders. Because it is reared only for wool and meat. This breed is found in Uttar Pradesh's Muzaffarnagar, Haryana, Delhi and Uttarakhand. About 600 grams of wool is also obtained from this sheep every 6 months. And this sheep weighs up to 32 kg.
7. Cushion Sheep
Sheep of this breed are found in mountainous areas. The weight of this sheep is up to 17 kg. And it gives up to 450 grams of wool every 6 months.
8. Deccani Sheep
This breed is found in many states of India. And it is known by different names in different states. Such as Solapuri, Kolapuri, Sangamanari and Lonand are called. The color of these sheep is black. This sheep is mainly reared for meat production.
9. Patan Wadi Sheep
This breed of sheep is known by many names. Such as Kutchi, Vadhiyari Charotari and it is also called indigenous sheep. You also get about 600 grams of wool from this sheep every 6 months.
10. Nellauri Sheep
The weight of this sheep is about 3 kg. And it goes up to 27 kg in a year. This sheep is found in Nellore district of Andhra Pradesh.
---
Government Scheme For Sheep Rearing
The National Live Stock Mission has been started by the Central Government to promote goat rearing and sheep rearing. Under which subsidy is given for sheep rearing to promote animal husbandry in the country. There are many components under the National Live Stock Mission. In which provision has been made for different subsidies under different components. Under the National Live Stock Mission, the amount of subsidy by different state governments also varies. Because this is the plan of the Centre. But many state governments add some part of the subsidy on behalf of the state in this. Due to which the subsidy available to the farmer increases.
Expenditure On Sheep Rearing And Subsidy From The Government
Under the National Live Stock Mission scheme of the Central Government, subsidy is given on the basis of 40+2. That is, the total expenditure on two sheep for 40 sheep comes to one lakh rupees. In this, you get a loan of 50 thousand rupees without interest and you have to pay interest on the remaining 40 percent. At the same time, you have to invest 10 percent of the amount yourself.
---
Bank Loan For Sheep Rearing
It is a type of working capital loan. Which can be used for goat or sheep farming business. Like any business some amount is required to start goat or sheep farming business. To meet the working capital requirements and maintain the cash flow, customers can opt for goat or sheep rearing loans offered by various private and government banks.
Documents Required To Get Loan For Sheep Farming
There are certain documents you will need while applying for a bank loan for sheep or goat farming. These documents are as follows-
Passport size photograph of the applicant.
Bank account statement for the last 6 months.
Address proof of the applicant.
Income certificate of the applicant.
photocopy of aadhar card.
BPL card, if available.
Caste certificate, if applicable for SC/ ST/ OBC.
Domicile certificate.
Sheep farming project report.
Land registry documents
Blog Upload on -
Nov. 1, 2022
Views -
1694